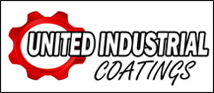 United Industrial Coating is your one stop source for industrial coatings, painting equipment, parts and supplies. When you make the decision to work with us, you will get coatings that: dry faster, look better longer, are corrosion resistant, easy to use and are VOC compliant. The ability to coat a wide variety of surfaces requires a diverse product offering and application expertise. The application and curing processes, durability and environmental needs, as well as applied cost efficiency, are all requirements for a successful finishing operation. We offer solutions that withstand the physical demands of everyday use, so you get the greatest return on investment.
UIC Services
Custom color matching done locally with 24-hour turn-around.

 No minimum order requirements!

Consistency in product quality and color.
Custom color matched aerosol spray cans.
Quick order to delivery times ensure you need to stock little product.
Equipment testing and repair service with free loaner equipment available.
PPG Product Lines Carried
Commercial Performance Coatings
Amercoat – Protective and Marine Coatings
Envirocron – powder coatings
Philips Paint Products
Delfleet Fleet Finishes
Highly Trained Technical Support
Trust our Sales and Support staff to help with any painting or application need.
On-site Fit testing and Safety training.
Specialized training available at PPG Development Centers nationwide.
Equipment and Additional Products
Solvents
Pressure Pots
Electrostatic Spray Equipment
Parts
Abrasives
Safety Equipment
Sundry Items